English below
Microcamp Radio est en Géorgie.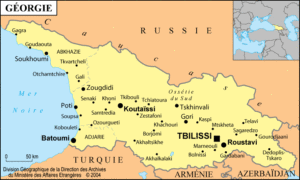 Suite aux guerres avec les deux régions sécessionnistes d'Abhazie et d'Ossétie du Sud, plus de 250 000 personnes sont "déplacées" en Géorgie. Certaines ont dû fuir il y a plus de 25 ans, lors de la période post-soviétique, d'autres après la guerre de 2008 avec la Russie.
Ces personnes vivent désormais en Géorgie pour une durée indéterminée, mais leur retour dans les régions sécessionnistes est peu probable au vu des relations actuelles entre la Russie et la Géorgie: la Russie empiète chaque jour un peu plus sur le territoire géorgien et les frontières des régions sécessionistes sont fermées aux personnes déplacées.
Elles vivent dans des centres collectifs dans les villes, ou dans des maisons construites rapidement avec l'aide humanitaire internationale après la guerre de 2008 le long de la route entre Tbilissi, la capitale, et Gori.
Nous allons réaliser l'atelier avec l'ONG Consent, qui agit auprès des déplacés vivant dans un camp de Gori. L'atelier se tiendra dans un centre socio-culturel. Il permettra aux personnes déplacées de s'exprimer ensemble.
Microcamp Radio ira ensuite dans la Vallée de Pankissi, dans les montagnes du Caucase où habitent des réfugiés tchétchènes.
Restez à l'écoute pour entendre leurs paroles, avec les prochaines émissions Microcamp Radio !
Microcamp Radio is in Georgia.
The wars with the secessionist regions of Abkhazia and South Ossetia caused the displacement of more than 250 000 people in Georgia. Some of them had to leave their homes more than 25 years ago, the others after the 2008 war with Russia.
Today, they live in former collective centers in towns, and in houses built with humanitarian aid along the road from Tbilissi to Gori, south of Ossetia. Some of these buildings are in very bad condition.
We will hold the workshop in partnership with the NGO Consent, with inhabitants of a settlement close to Gori, in a cultural center. IDPs will be able to express themselves collectively.
Microcamp Radio will then go to Pankissi Valley, in the Caucasus, to meet Chechen refugees and work with Kakheti Regional Development Foundation (KRDF)
Stay tuned to hear their voices in the next Microcamp Radio broadcasts !